I'm certainly not complaining! Me and my work girls took a trip to Starbucks in our lunch break and soaked up some surprisingly warm rays!
Hannan in her on trend glee style jacket! Only problem is all the guys in the office keep singing Smalltown Girl by Journey! "Don't stop, believinnnnnn!"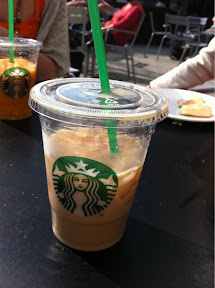 For the past 2 years I've been obsessed with caramel frapuchinnos, but my pallet seems to have matured to more bitter tastes and I now find it too sweet! So a vanilla iced latte is my 2011 summer drink. Thrilling new piece of information for you there!!