Friday, 24 June 2011
The long awaited June Glossbox! I was so excited to open it I rushed home to my mum's to collect it in my lunch break and have done a quick blog post!
I have to say (maybe greedily so) that I'm not totally overjoyed by the selection this month. I know that last month's had NARS so I was hoping for an equally exciting brand this month.
I feel we've been cheated a little with the batiste as it is so cheap to buy a full size and this is just a tiny one - its hardly a luxury brand. Plus everyone's used it before so I doubt there will be much hype created by it.
The perfume is actually really nice so I'll take that away with me at the weekend. I haven't worn it yet, all I've had time for is a quick sniff so I'll review that at a later date.
The OPI nail varnish is nice - I got a silver one. I have the Barry M silver nail varnish so I'm not excited about this but that's me just being selfish and hard to please, and its definitely not Glossy Box's fault!! Of course every month is going to vary, and everyone's opinion on the products is going to vary so you can't please everyone every month but for £10 you definitely get your moneys worth to be able to try out 5 products.
I haven't had chance to look at the rest properly yet but the 2 I haven't yet mentioned are a serum and a shower gel.
I will review soon but for now I just wanted to show everyone who doesn't have theirs yet!!
Roll on next month!
Posted by

lizrose100
at 13:18
No comments:


Posted by

lizrose100
at 12:12
No comments:


Everyone's been talking about Xen Tan. I know its been out for quite a long time and if you are a beauty-a-holic you may have read about it countless times, but it seems that the masses are only just starting to use it. I have only recently started beauty blogging so I'm by no means an expert yet, and only started reading about Xen Tan when I started getting hooked on beauty blogs a couple of months ago.
I decided to take the plunge and bought it from www.feelunique.com for £17.99 free delivery. I thought this was a pretty good deal, and the free delivery definitely persuaded me. It arrived within a few days, and I tried it for the first time last night. I have been so excited to use it ever since I read about it as it is supposed to be better than St Tropez, which is saying something! Especially as it is quite a bit cheaper too.
I research how to applicate online before diving in. I didn't want anything to go wrong, especially as I have a weekend in London ahead with friends - I didn't want to be streaky or too dark! I assumed it would be the usual exfoliate and moisturise but I just wanted to check in case, and wanted to know how long is best to leave it for. A few hours or leave over night? I didn't want to wash it off too early and not have any effect, but I didn't want to leave for too ling and be 'tangoed'! I read a few people's blogs who said that they leave it on over night, and Xen Tan's website said it will start to develop after 3 hours, and will continue to develop into a darker tan after another 4 hours. So I came to the conclusion that over night would be best. I exfoliated well with my St Ives Apricot Body Scrub (blog about this product below) whilst wearing expoliating gloves, and then moisturised well. I waited until the moisteriser had dried and then started applicating with my hands. I never use mitts - I feel I can get more control over how much I'm using and how I am applicating without them. I also read that its best to wash your hands after each section of your body, so I made sure I did this as it stains your palms instantly. What a lot of people don't seem to know though is that washing up liquid removes colour from palms amazingly! Give a little scrub after you've finished applicating each body section and it all comes off! Just make sure you don't leave it until it has dried/developed because then it obviously won't work. It's a life saver. No need for expensive St Tropez tan remiover - £1 fairy liquid does the job just as well, if not better! I would suggest washing your hands with normal hand soap afterwards to put some moisture back in your skin as washing up liquid is harsh and leaves your hands dry.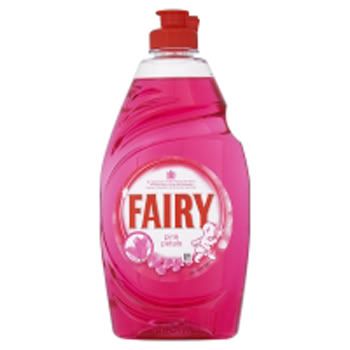 Here is a swatch of the Xen Tan Dark Lotion I found online. (I am currently at work and was too disoragnised to take a photo at the time!) The lotion is dark coloured as a guide when applicating. I have gone for a fairly light application first time, and have had great results. I had a couple of comments at work this morning saying I look nice and tanned and one guy (!) asked if I had been on a sun bed! Plus my boyfriend who usually says I'm tangoed (as a partial joke, but Dove gradual tan which I usually use does have more of an orange tint) said that it looked good this morning! You may think that the swatch looks scarily dark, but is this colour because it has green undertones to bring you out in a nice natural looking olive brown, and not dreading orange that you get a with a lot of cheaper tanners!And also it is used as a guide colour so that you can see how much you are putting on, and if you want to be darker, add on a another layer. Be quick to do so before it starts to dry though as it rolls up into little dried up bits if you apply too late (I made this mistake on one little area of my body. Luckily I saw what had happened and wiped away with a towel).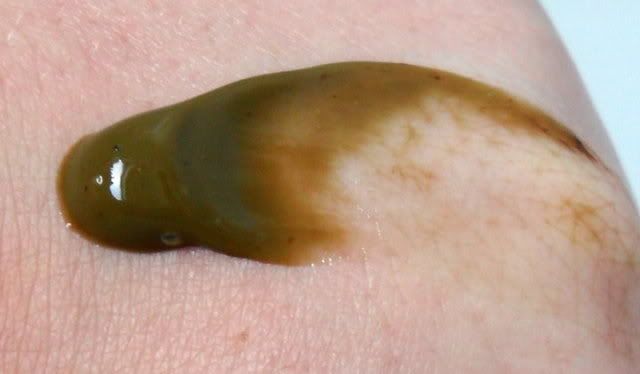 Another amazing plus about this product is the fact that it smells nice! We all know a lot of tanners smell horrible. Its that henna/biscuit smell that makes your boyfriend run a mile! (Mine does anyway, he won't come near me if I have Dove on) But this smells of what I would and have read other's describe as a sweet marzipan scent. My boyfriend commented that it smelt nice which I was very pleased about - no more moaning! Today after it has developed and after showering it smells very slightly on my hands, but I don't think you'll ever have odour free hands after using any fake tan.
Over all I am so pleased with this product! A little goes a long way so I think it will last me a while. It says its a weekly tanner so hopefully it will last the full 7 days until the next application is due. I will keep you updated!
Posted by

lizrose100
at 11:45
No comments:


Tuesday, 21 June 2011
I can't wait for this Limited Edition collection to be released in the UK, it looks absoluetly gorgeous and quite different to a lot of the most recent, very girly, collections. Don't you think all of the mineral blushes and eye shadows looks delicious? They're so pretty I could stare at them for hours! The ad campaign doesn't entice me half as much as MAC campaigns usually do, but I quite like the 90s vibe even if it doesn't exactly portray the collection that well. (I would have thought with that colour pallet they may go for something a little more 'out there'.)


Collection Description: We can all admire a girl with a 30-carat diamond. But the new dazzle is Semi-Precious. Gems that are rare in spirit, rich in substance and worn fluidly, on the skin. In MAC Semi-Precious, four finely milled gems – bronzite, black tourmaline, gold pyriate, and lilac lepidolite – bring their own earthy an spiritual affluence to three key elements of the mineralize collection: eyeshadows, skinfinish, and blush. Setting them off: a collection of colour, two mineralize skincare formulas, and four new limited-life split fibre brushes. Like everything this precious, these elements start off rare, and tend to get rarer… get rich while you can!

Release Date: July 7, 2011 (USA) / July 2011 (International)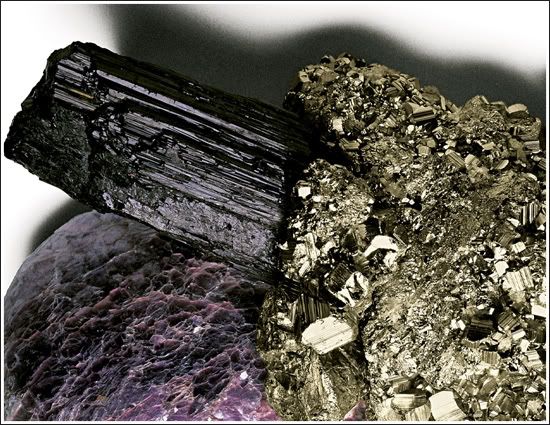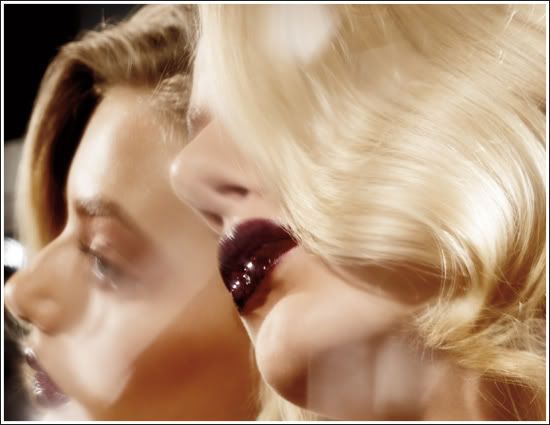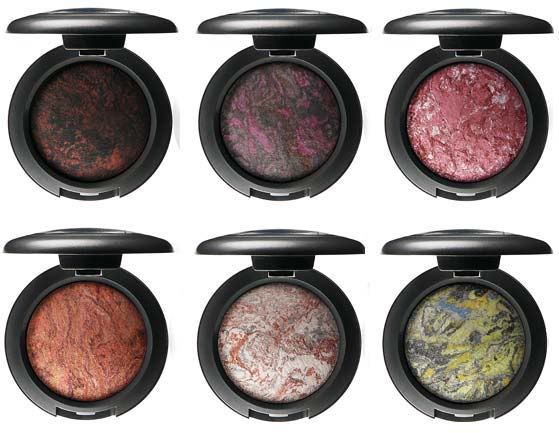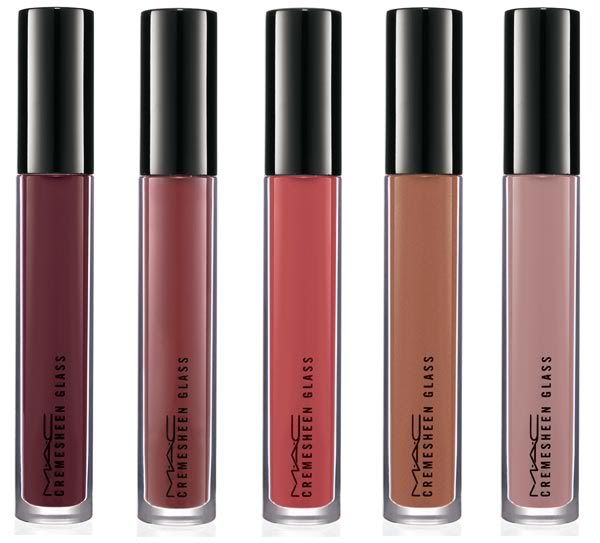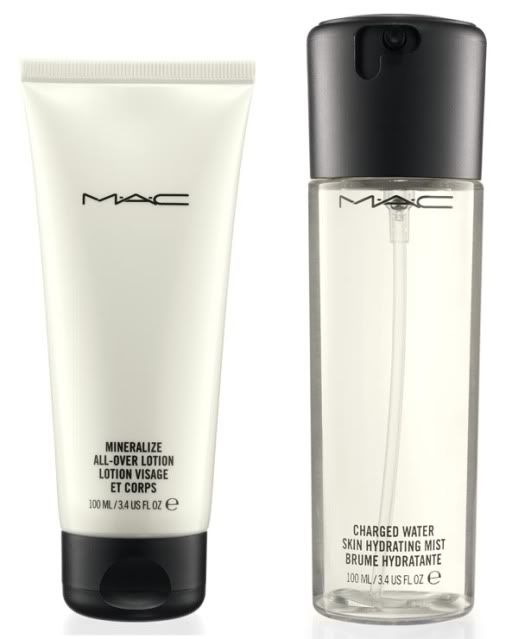 MAC Semi Precious Lipstick
Gem of Roses – Mid tone strawberry pink (Lustre)
Lush Amber – Light nude beige (Lustre)
One of a Kind – Mid tone rosy neutral (Lustre)
Musky Amethyst – Deep plum (Frost)
MAC Semi Precious Cremesheen Glass
Geo Pink – Strawberry pink
Natural Flare – Light caramel nude
Pure Magnificence – Light grey pink
Look Like Sin – Mid tone reddish plum
Richly Revered – Deep brown plum
MAC Semi Precious Mineralize Eyeshadow
Blue Sheen – navy, black and peach
Dark Indulgence – forest green and black
Smokey Ruby – burgundy and black
Golden Glaze – gold and black
Rare Find – violet, brown and gold
Jade's Fortune – bright yellow, blue, lime and black
Mint of sapphire – pink violet, teal, copper, and blue
Faux Gold – coral, gold, lime and bronze
Quartz Fusion – soft pink, silver and deep pink
Unsurpassable – green, teal, purple, and copper
Clarity – white, copper and grey
Mineral Mode – white, copper and grey
MAC Semi Precious Mineralize Blush
Feeling Flush – Melange pink, deep blue pink and soft brown
Warmth of Coral – Melange peach and coral
Pressed Amber – Melange nude, beige and brown
MAC Semi Precious Mineralize Skinfinish
Semi precious pearl – Base: beige champagne / Inner circle: white, plum, bronze
Semi precious crystal pink – Base: pink champagne / Inner circle: pink, mid tone green, bronze
Semi precious rose quartz – Base: rosy pink / Inner circle: silver, lime, white pink copper
MAC Brushes
#128 Split Fibre Cheek Brush
#179 Split Fibre Angled Buffer Brush
#234 Split Fibre Blending Brush
#235 Split Fibre All Over Eye Brush
MAC Semi Precious Mineralize Charged Water
Revitalizing energy
Posted by

lizrose100
at 22:18
No comments: